Aaron Ramsey can't quite believe he has been at the club for "that long" – five years now at Arsenal – but after a stop-start time, the last year has seen him develop rapidly as a footballer. Part of that improvement can be put down psychological reasons; firstly, getting over his horrific leg-break and then, even as close to last September, finding the confidence to even pass the ball with conviction. Then there's the part tactically: trying to find out what type of midfielder Aaron Ramsey was.
No one can say at Arsenal that players are pigeon-holed, but in a sense for Ramsey, that might have been the case. Arsenal play a technical game therefore you can be certain that any midfielder that joins will be a pass master. When Ramsey signed he had Cesc Fabregas ahead of him, not to mention Barcelona were the vogue at the time, and as such, his progression to a playmaking midfielder was obvious. Except over time, Arsene Wenger realised that Ramsey need not be a master of anything, but simply good at all things.
Playing Ramsey out wide was to help him achieve his potential as Wenger says, by deploying a central player wide, it allows him to "get used to using the ball in a small space, as the touchline effectively divides the space that's available to him by two; when you move the same player back to the middle, he breathes more easily and can exploit space better."
Ramsey has never looked back and since the start of the year, he has progressed into an accomplished number 8, winning possession, finding team-mates and generally never stopping running. The next step will surely be to become the complete midfielder – and that means also becoming a master of the pass in the process.
Aaron Ramsey's rise comes at a time when the No. 8 has become a pivotal position in the modern game. In last year's Champions League, the two standout players were arguably No. 8s. Bayern Munich's Javi Martinez was crucial in disrupting Barcelona's passing in their 7-0 aggregate win in the semi-finals, while Borussia Dortmund's Ilkay Gundogan is more refined, using his pinpoint passing and energy to help defeat Real Madrid.
The number 8 has never been a particularly glamorous role though: the players who play there are typically understudies to a player of a higher profile, and in Brazil they are referred to as the "second volante" or the "second function midfielder". Unfortunately in the Brazilian system these days, No. 8s tend to be limited players, capable of breaking forward with skill, yes, but their main role is to help with the marking (although Paulinho's rise to prominence promises to change that). In the past, it wasn't like that as Brazil legend Falcao of the '82 side explains:
"I'm not saying the older generation were more talented, but midfielders neeeded to be more versatile when I was playing," he said in an interview with Fernando Duarte. "We had to help up front, too, not just worry about marking.
"My style was a result of the training back then. You wouldn't see me trying loads of nutmegs or turns, but I always paid attention to precision in passing and positioning. Although I was playing in a holding role, I had to be able to support the strikers and attacking midfielders, too."
The impact of players like Gundogan and Martinez, and Juventus's Arturo Vidal, however – who are great passers of the ball, too – promises to change that. All three players are as well, capable of playing defensive midfield or attacking midfield, and similarly, Aaron Ramsey has played both roles. However, unlike the others, he's not playing alongside a deep-lying midfielder or a tough-tackling midfielder: he's playing alongside a like-minded midfielder in Jack Wilshere highlighting how versatile Arsenal are this season. Against Sunderland on Saturday, though, Ramsey started alongside Mathieu Flamini and this liberated him to produce a complete midfield performance.
Put simply, Ramsey was everywhere and it was his two goals which helped Arsenal run out 3-1 winners. The goals put the cherry on the cake on what has been an remarkable improvement and what was probably the last part of his game that needed catching up. The first goal was an amazing piece of skill, expertly guiding the ball on the volley into the bottom corner from Carl Jenkinson's cross; while the second displayed his "Sami Khedira-style" running, taking advantage of the space new signing Mesut Ozil created and finishing calmly. Indeed, so impressive was their understanding already that the two players combined the most in the match, finding each other 37 times in total.
Ramsey was not just the finisher, but also the instigator, winning 7 out of 7 of his tackles (giving him a tackle success-rate in the Premier League so far of 95% – 20/21 tackles) and is now confident in his upper-body strength enough that he goes up for set-pieces. Indeed, in recent times, both Arsene Wenger and Steve Bould have proclaimed how Aaron Ramsey has grown in "stature" and is now a "physical presence," and that ensured that Sunderland, normally such stiff opponents, were unable to put Arsenal under pressure early on the way they wanted to. And when Ramsey won the ball back, he was superb in possession, keeping the ball and moving Sunderland left and right to open up space for a midfield runner. Fortunately in the end, it was he that got into those spaces and finish off Sunderland.
Sunderland's negative approach
A lot has been made of Paolo DI Canio's refreshing and radical training methods since taking over at Sunderland, but his approach on Saturday was nothing less than ordinary.
Di Canio set his team out to play a 4-4-2, presumably so that when they got the ball, they could hit their strikers quickly. Except they made the cardinal sin of not pressing when Arsenal had the ball in defence, and that invited The Gunners to come forward at them.
That cautious approach can be displayed by graphic which shows where Arsenal's deepest midfielder, Mathieu Flamini, received the ball.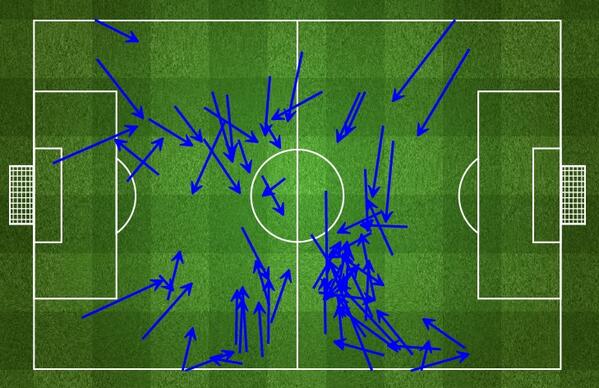 At first glance, you could say that Flamini did the thing that all deep-lying midfielders should do when in possession and that is to follow the ball and provide the outlet so that you minimise the risk of isolation. Except delving deeper, the graphic shows that Flamini received the ball so often from the full-backs because Sunderland allowed Arsenal to play the ball out. Because Sunderland defended in a 4-4-2, theoretically that means the centre-backs are marked therefore their main option is to play it wide. Arsenal were able to do that comfortably because Sunderland dropped off whenever it was played out from the back and that, coupled with the numerical advantage in the middle, allowed Arsenal to dominate.
In the second-half, whenever the ball was played into the midfield, Sunderland got tighter, spurred on by the energy Craig Garder gave them when he came on at half-time. And indeed, they were a little unlucky that Jozy Altidore wasn't given the advantage when he ran through on goal following a grapple with Bacary Sagna. However, that shouldn't mask how reactive they were for most of the match and should have been out of sight by half-time anyway had Theo Walcott converted at least one of his hat-trick of good chances.
Quick thoughts on Sagna and Wilshere on Twitter…
I like Sagna at centre-back, although he needs to be wary of getting too tight to the striker. Can get away with it at full-back, not at CB.
Jack Wilshere is interesting out wide because he's able to pick the ball up, not only up the pitch, but side-on, instead of back-to-goal when as a no10.